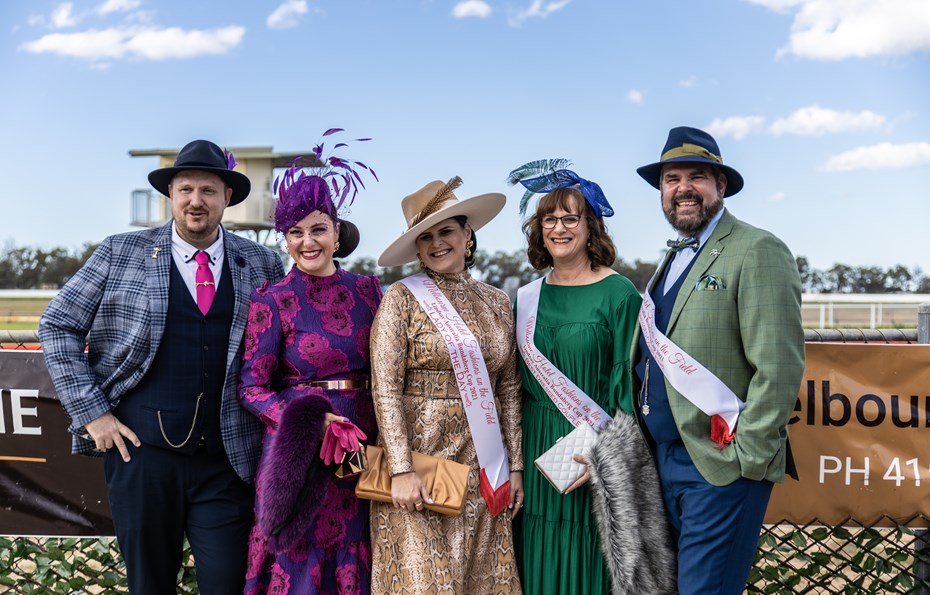 MELBOURNE HOTEL FASHIONS ON THE FIELD
Fashions on the Field will return to the Bundaberg Race Club for three events in 2023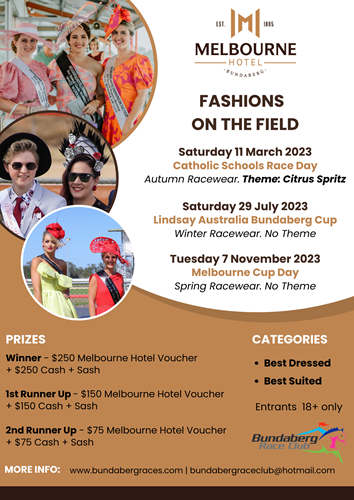 11 March – Catholic Schools Race Day   
Season: Autumn
Theme: Citrus Spritz
Categories: Best Dressed & Best Suited
29 July – Lindsay Australia Bundaberg Cup
Season: Winter
No Theme
Categories: Best Dressed & Best Suited
7 November – Melbourne Cup
Season: Spring
No Theme
Categories: Best Dressed & Best Suited
Categories
Melbourne Hotel Fashions on the Field has two inclusive categories open to anyone over the age of 18
1. Best Dressed
Best dressed is defined as a well-considered special occasion race day outfit (but not a suit), also showcasing millinery and complementary accessories (jewellery, shoes, bags, gloves as preferred etc).
2. Best Suited
Best suited is defined as a set of outer clothes made of the same or co-ordinated fabric and designed to be worn together, typically consisting of a jacket and trousers or a jacket and skirt. The outfit should also showcase millinery and or complementary accessories (ties, pocket squares, jewellery, shoes, bag, gloves as preferred etc). Jumpsuits and playsuits are not considered in this category. 
Criteria
Understanding and display of style, originality, and fashions trends
Suitability of the outfit for the category, individual, climate, time of day, and season
The use of millinery (hats, fascinators, head bands, tiaras, flower laurels, hair scarves etc)
Attention to detail and use of accessories 
How the entire outfit is complementary and works together
Incorporation of race day theme (when applicable)
Overall grooming and deportment
Prizes/Judging
Judges will award three prizes in each category
Winner - $250 Melbourne Hotel Voucher + $250 Cash + sash
First Runner Up- $150 Melbourne Hotel Voucher + $150 Cash + sash
Second Runner Up - $75 Melbourne Hotel Voucher + $75 Cash + sash
Heats may be held to determine finalists if there are a large number of entrants. 
Registration
Anyone over the age of 18 may enter Fashions on the Field. 
To register for the Melbourne Hotel Fashions on the Field, you need to obtain a number from the fashions table in your chosen category. Judges can offer guidance of which category to enter if you are unsure. 
Style spotters (race day judges/staff/volunteers) may also roam the event and direct you to the fashions registration prior to judging. 
Please note: the Marquee Functions on Catholic Schools Race Day (March 2023) and Ulton Race Day (September 2023) will have their own  Fashions on the Field competitions. Each marquee event is likely to have a theme that will be published by the marquee organisers prior to the event. Marquee Fashions on the Field is open to marquee guests only, and is not organised by the Bundaberg Race Club. 
ADDITIONAL DETAILS
Please keep in mind that everyone associated with Fashions on the Field on race day, including the judging panel, are volunteers.
All entrants must be 18+. 
Entrants should always consider the seasonal guidelines when entering fashions on the field. Further tips and tricks for abiding by the seasonal dress code can be found here 
If your business would like to contribute the toe 2023 Fashions on the Field in any way, please contact Shanyn in the race club office on 4153 1416 or e-mail bundabergraceclub@hotmail.com